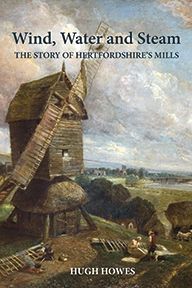 Wind, Water and Steam
The story of Hertfordshire's mills
Author: Hugh Howes
Price: £14.99/$29.95
"
"This is a most thorough and efficient book, with eight appendixes, a glossary for all those technical terms (did you know that a damozel is a forked iron bar feeding grain into the eye of the millstones?), a useful gazetteer with grid references and descriptions, a select bibliography and a useful index. It will be the reference and source book for anyone interested in researching this key aspect of Hertfordshire's past economy. It is also a visual delight, abounding with historic and contemporary photographs as well as 30 colour plates. Artists, walkers, countryside explorers as well as local historians and academics will all love this book."
About the book
"This excellent publication reviews the history of milling in Hertfordshire, and more particularly its decline from the mid-19th century. Howes identifies some 160 former mills in the county, devoted to a wide range of uses: corn milling, paper-making (especially Dickinsons at Apsley), gunpowder, silk throwing, cotton, fulling; sawmilling, stone-crushing and water pumping." Brian James-Strong, Greater London Industrial Archaeology Society newsletter
"Well written in an easy style and pertinently and profusely illustrated throughout with maps, plans and photographs together with interesting appendices, glossary, gazetteer, bibliography and index it offers a well-researched and useful guide to milling, in its many guises, in Hertfordshire." Jane Tunesi, Hertfordshire People
"Mr Howes has produced a comprehensive and engaging history of a trade and industry which is connected locally and nationally with our past and is still evident today." Ted Martin, History in Bedfordshire
"A scholarly yet very readable account of Hertfordshire milling from its heyday until the present, when it has moved from a central to a peripheral role in the county's economy. The many photographs, paintings and diagrams are a huge asset to the book. I suspect I spent as much time browsing through them as I did reading the text. If you have any interest in mills at all, I'm sure you'll enjoy Wind, Water and Steam." Richard Bradbury, Chiltern Society Magazine
"This should prove a valuable addition for all people with an interest in mills as well as a broader audience on the history of this fascinating subject of the county of Hertfordshire" Mildred Cookson, The Local Historian
Hertfordshire has an unusually rich and diverse milling heritage. As well as its long tradition of corn milling, the county once enjoyed a reputation for the milling of a variety of other products, including pioneering papermaking in the west of the county, gunpowder and small arms in the east, and also silk and cotton.
There are records of 110 watermills and 71 windmills in Hertfordshire but little physical evidence of most of them remains today.
More about the book

Of the few that do survive, eight are accessible to the public and offer unique insights into the past.

Heavily illustrated with both historic and contemporary photographs, this book acts as an invaluable guide to these mills and also provides a comprehensive gazetteer of all known Hertfordshire mills, whether extant, in ruins or demolished.

Many of the water-mill sites pre-date Domesday Book, and for many centuries milling continued more or less unchanged. Then, in the nineteenth and twentieth centuries, radical changes took place that fundamentally altered and finally destroyed whole sectors of the milling industry.

In recounting the social and economic history of all the varieties of milling in the county, Hugh Howes focuses on key advances in technology and the opportunities brought about by improved transport. Proximity to London helped the Hertfordshire mills to thrive but also undermined them – when the major corn exchanges were established in the City of London and when vast quantities of imported grain began to arrive at the capital's docks.

The success with which individual millers were able to meet these challenges determined whether or not they survived. Moving away from the vagaries of wind and water by switching to steam power and, ultimately, electricity was one of the keys to prosperity, while up-to-date milling equipment and good access to both imported grain and expanding markets were also to prove crucial.

This is a highly engaging account of a long-established commercial activity that touches on many important aspects of our history, both locally and nationally.

Read a sample chapter

About the Author/s:
ISBN: 978-1-909291-73-7 Format: Paperback, 256pp Published: Jun 2016
Any questions
Contact us at UH Press if you have any queries or would like to find out more about this book.