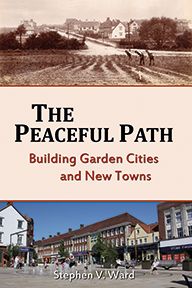 The Peaceful Path
Building Garden Cities and New Towns
Author: Stephen V. Ward
Price: £16.99
"
"Ward's engaging style and flair for the dramatic engage the reader from the outset... The Peaceful Path is a worthwhile addition to the corpus of work on the garden city movement. A well-written and useful volume, it will be an excellent text book for more advanced undergraduate students, but it also deserves to be more widely read by anyone with an interest in where we live today."
About the book
"This fascinating book takes its title from Ebenezer Howard's work on the garden city... It is very accessible to the general reader, particularly those interested in Hertfordshire." Freer Magnus, Friends Forum
"... a scholarly delight... superbly written and illustrated, with an excellent bibliography and index. A must for students of town planning, but also for historians of Hertfordshire where... Howard's dream is most evident." Jane Tunesi, Hertfordshire People
"It's a rare delight to pick up a book that is as readable as it is scholarly." David Grove, former New Towns research officer and planning consultant
The title of this book is taken from Ebenezer Howard's visionary tract To-morrow: A Peaceful Path to Real Reform.
Published in 1898 as a manifesto for social reform via the creation of Garden Cities, it proposed a new way of providing cheap and healthy homes, workplaces and green spaces in balance in cohesive new communities, underpinned by radical ideas about collective land ownership.
While Howard's vision had international impact, in this book planning historian Stephen Ward largely honours the special place that Hertfordshire occupies on the peaceful path, beginning with the development of Letchworth and Welwyn Garden Cities. Both were established with Howard's personal involvement and slowly achieved most of his aims; both also emerged as havens for liberal-minded, creative, largely temperate communities.
More about the book

Stephen Ward then recounts in detail how the New Towns programme was created by the post-war British Government as an alternative way of realising Howard's vision.

Although state involvement was not what Howard had wanted, the new approach overcame financial problems to allow faster development while maintaining the principle of collective (though no longer local) land ownership.

During this dynamic era of new thinking in all areas of government, Hertfordshire was once again in the vanguard with bold and imaginative New Towns that met real social needs being created at Stevenage and Hemel Hempstead as well as at Hatfield and Welwyn Garden City.

By 2011, over a quarter of Hertfordshire's population lived in its Garden Cities and New Towns. Nowhere else in the UK, or indeed the world, came so close to Howard's dream.

The Garden City idea was admired globally, inspiring innovative planned settlements from Scandinavia to the United States, from the USSR to Australia. Yet this is not just a work of history: The Peaceful Path also examines the contemporary relevance of Howard's vision.

Today's politicians, faced with a severe housing shortfall and rampant property prices in London and other 'hotspots', are again turning to the idea of the Garden City. Howard's vision endures.

Read a sample chapter

About the Author/s:
The Peaceful Path launch event
ISBN: 978-1-909291-69-0 Format: Paperback, 408pp Published: Mar 2016
Any questions
Contact us at UH Press if you have any queries or would like to find out more about this book.