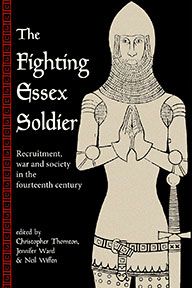 The Fighting Essex Soldier
Recruitment, war and society in the fourteenth century
Editor: Christopher Thornton, Jennifer Ward , Neil Wiffen
Price: £18.99 £15 (no p&p)
"
"Christopher Thornton and his colleagues make two highly significant wider extrapolations from their research. They reveal that the degree of association that the ordinary soldiers had developed played some part in Essex being at the centre of the Peasants Revolt in 1381; and they also argue that the expertise that Essex mariners began to develop in their international travels at this time later produced the maritime prowess for which England became so formidable in the later Tudor period. These are the formative fruits of detailed and thoughtful historical research."
About the book
"The contributions are… all well-written. It reads like a single study, not like a collection of disparate articles. For this, credit is due to the editors and to the organisers of the original conference." Richard Harris, Essex Journal
The wars of the fourteenth-century English kings with France and Scotland resulted in a dramatic increase in the number of men involved in warfare on land and sea. This book draws upon new research to identify and analyse these soldiers at all social levels in the specific context of the county of Essex.
New approaches to the history of the later Middle Ages allow important evidence of military service to be correlated with the rich documentary material stemming from landholding, taxation, administration and other aspects of economic and social life.
Significant comparisons can then be made: increased demands for taxation and for shipping from maritime communities, for example, cast light on the impact of war upon the 'Home Front'. The uprising of 1381 is considered as the consequence of the intensive militarisation of the south and south-east coast of England and the consequent cost to taxpayers.
More about the book

In a series of related chapters which add up to a wide-reaching survey, leading researchers explore key aspects of military, social and economic history in fourteenth-century Essex.

From the raising of forces to serve the king, through a study of aristocratic lawlessness which may have been linked to violent experiences on the battlefield, to new ways of analysing data to give insights into men recruited as archers and mariners, and a consideration of military aspects of the Peasants' Revolt, this is a rewarding examination of medieval fighting men which affords much new insight into Essex history.

Read a sample chapter

About the Editor/s:

---
The Fighting Essex Soldier book launch
ISBN: 978-1-909291-88-1 Format: Paperback, 192pp Published: May 2017
Any questions
Contact us at UH Press if you have any queries or would like to find out more about this book.