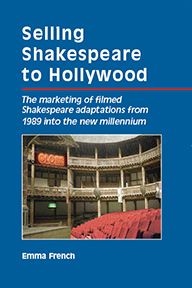 About the book
"An essential book for anyone who wishes to question received notions of 'high' and 'low' culture" John Carey, Emeritus Professor of English, Oxford University
"French makes useful sense of the recent affinity between Shakespeare and cinema" Bruce Boehrer, Studies in English Literature
This book seeks to understand what makes Shakespeare a marketable commodity for the Hollywood film industry, and to explain the explosion of interest in filmed Shakespeare adaptations since 1990.
It will appeal to a broad readership, not only in the growing field of Shakespeare studies, but also to those interested in developments across cultural studies, media, marketing and film studies.
More about the book

Until now, filmed Shakespeare criticism has largely centred on aesthetic critiques of filmic devices, or on comparisons between the film and the source text.

Employing a new angle, this book explores the reasons why contemporary filmed Shakespeare prompts cultural anxiety about high-culture adaptation.

The book seeks to explain an increasingly irreverent approach from the early 1990s to the present day. It tracks the commercial failure of several adaptations marketed as 'faithful', particularly Kenneth Branagh's epic four-hour Hamlet and Michael Hoffman's A Midsummer Night's Dream, and the success of those adaptations that emphasised the hybrid nature of their product, such as Shakespeare in Love and William Shakespeare's Romeo + Juliet.

An offshoot of the heritage film genre in 1989, today Shakespeare on film has become a genre with recognised sub-genres of its own. This shift may be ascribed to the necessity of marketing filmed Shakespeare adaptations as both a discrete entity and, paradoxically, as a medium which transgresses genre.

The book concludes that the most successful filmed Shakespeare adaptations are those that blur traditional binaries between high and low art and commerce in their marketing.

About the Author/s:
ISBN: 978-1-902806-51-8 Format: Paperback, 224pp Published: Feb 2006
Any questions
Contact us at UH Press if you have any queries or would like to find out more about this book.