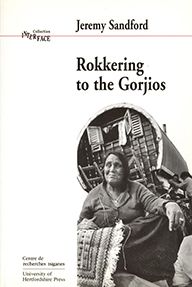 Rokkering to the Gorjios
Author: Jeremy Sandford
Price: £11.99
"
"This collection of documents brings vividly before us … the astonishing vigour of Romany culture, its pride and colour, its wit and tenacity and, alongside that, the 'squalor of rubbish tips and refuse dumps ... the endless series of evictions ... the sprawl and concrete of our local authority sites' which now forms its real environment."
New Society (review of first edition)
About the book
A revised edition of a classic work celebrating Gypsy lifestyle and culture, which for the first time gave British Gypsies the opportunity to address non-Gypsies — to rokker to the Gorjios, in their own words.
Jeremy Sandford, the author of the television classic Cathy Come Home, travelled the length and breadth of the country gaining the trust of the Gypsies he interviewed and recording the stories of their lives, hopes, fears and aspirations. Illustrated with moving photographs, this book reveals a vanishing world but it is also a testament to the startling resilience of Romany culture and poses questions about what the future holds in store.
ISBN: 978-1-902806-04-4 Format: Paperback, 237pp Published: Nov 2000
Any questions
Contact us at UH Press if you have any queries or would like to find out more about this book.