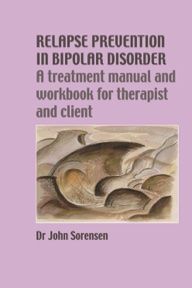 Relapse Prevention in Bipolar Disorder
A treatment manual and workbook for therapist and client
Author: John Sorensen
Price: £16.99
"
"This new therapy appears at a point in time when it is most needed ... it has become clear that bipolar affective disorder is much more prevalent in the psychiatric population than previously known ... The Sorensen Therapy for Instability in Mood will make it possible for the majority of patients, outside of the university clinics, to benefit from effective treatment. To my knowledge there are no other such programmes available."
About the book
"The manual and the intervention it describes are likely to have a significant impact on the lives of people diagnosed as suffering from bipolar disorder, and to be of considerable value to clinicians working in mental health settings." Prof. David Winter, Head of Clinical Psychology Services, Barnet, Enfield and Haringey Mental Health NHS Trust
"The therapy...will enable those who live with the effects of severe mood instability to develop a sense of renewed agency and hope" Dr Maria Gennoy, Consultant Clinical Psychologist
"I recommend wholly John Sorensen's therapeutic method" John Rhodes, Consultant Clinical Psychologist, Joint Head of Adult Mental Health, Haringey
The Sorensen Therapy for Instability in Mood (STIM) is an important new psycho-educational and cognitive therapy for bipolar disorder (BPD, formerly referred to as manic depression).
The key characteristics of the therapy are that it is brief, taking place over only four sixty-minute sessions, and that it can be delivered by practitioners with little specialist training.
The author, John Sorensen, has achieved impressive results with patients who have received the therapy, with significant improvements in their perceived control over mood, and significantly reduced hopelessness, which is known to be closely related to the likelihood of attempting suicide.
More about the book

Historically, there has been a reluctance to offer psychotherapy to patients with BPD as they were perceived to be unable to benefit from talking treatments — and to this day the standard treatment remains prophylactic pharmacological interventions. However, the STIM manual and client workbook offers a psychological therapy which has proven to be effective, popular with clients, inexpensive to implement and which delivers rapid results.

The STIM therapy is based on the collaborative development of a relapse-prevention handbook that also provides the client with an individualised bio-psycho-social formulation of their BPD-related experiences. It involves education about the disorder, work with the therapist to understand the client's particular triggers for manic or depressive periods, and the inclusion of the patient's social network in attempts to stabilise mood.

About the Author/s:
ISBN: 978-1-902806-56-3 Format: Paperback, 80pp Published: Oct 2005
Any questions
Contact us at UH Press if you have any queries or would like to find out more about this book.