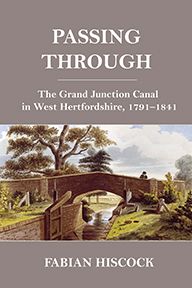 Passing Through
The Grand Junction Canal in West Hertfordshire, 1791–1841
Author: Fabian Hiscock
Price: £16.99 £12.74 (free p&p)
"
"The illustrative maps, drawings and sample documents are reproduced to a high standard, and the publishers deserve congratulation for the book's elegant appearance. Excellently referenced, it includes an index and extensive bibliography."
About the book
RCHS 2020 Canal and Waterways Book of the Year
"This is an extensive and detailed study which is intriguing and interesting… It tells of the effect of new transport infrastructure on an agricultural community with small market towns which again, 50 years later, was going to have to respond to the coming of the London and Birmingham Railway along much the same route." Ted Martin, History in Bedfordshire
"This book will certainly appeal to economic and social historians as well as to those with an interest in transport history, not to mention Hertfordshire." Ruth Jeavons, Herts Past & Present
The fifty years from the last decade of the eighteenth century saw great changes in Britain. Significant technological and economic change, not to mention wars, affected great swathes of the population and profoundly changed many aspects of life. In this book Fabian Hiscock considers this dramatic upheaval as it played out in western Hertfordshire, focusing in particular on just one of the many innovations of the time: the Grand Junction Canal, created to connect the Midlands with London.
Having described the complex process of creating the Canal itself, the author turns to how western Hertfordshire experienced, and responded to, the new trade route that now traversed its fields and settlements. In the area's towns and villages – particularly Rickmansworth, Watford, Hemel Hempstead, Berkhamsted and Tring – the Canal made an impact, but to what extent did it live up to the promises made by its promoters? And what were the impacts on trade and transport, on work and home life? Did it create jobs and wealth for local people? Or did it simply pass through, leaving those living on either side relatively unaffected? Whether and in what way western Hertfordshire changed as a result of the Grand Junction Canal is the focus of this work.
More about the book

1841 is the chosen end date for the study period because of the coincidence of the Census undertaken that year, which sheds some light on the industrial make-up of the area, the tithe awards made between 1838 and 1844, allowing study of the Canal's effect on land ownership and usage across the area, and the start of the London and Birmingham Railway's real economic effect.

In combining canal history with a detailed social and economic study of a part of the county that is not much written about, Fabian Hiscock has written a superbly researched and wide-reaching book that will be of interest to a broad range of readers.

Read a sample chapter

About the Author/s:
ISBN: 978-1-912260-15-7 Format: Paperback, 256pp Published: Sep 2019
Any questions
Contact us at UH Press if you have any queries or would like to find out more about this book.