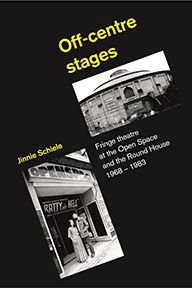 About the book
"Schiele's useful book . . . invaluably charts [Marowitz's] work." Michael Coveney, The Times Literary Supplement
English Fringe theatre of the 1960s and 1970s can be defined as being both geographically off-centre and at the edges of theatrical and political convention. This book relates the histories of two important London fringe theatres: the Round House, architecturally unique, vast but difficult as a performance space, and the Open Space, intense, flexible, but so tiny that it had its own inherent problems.
More about the book

Before 1960 the notion that theatre might happen in any space where people could gather had hardly been explored. Working with Peter Brook, the maverick American playwright/director Charles Marowitz presented the Royal Shakespeare Company's Theatre of Cruelty season in 1962 and helped to kick-start the alternative theatre movement, later to be called "the Fringe".

In partnership with the actress and producer Thelma Holt, Marowitz went on to found the Open Space in a basement in London's Tottenham Court Road. By contrast, Camden's Round House, originally developed as a theatre and arts centre, was a disused Victorian engine shed. Thelma Holt played an important role at the Round House too, moving on there from the Open Space.

From a detailed appraisal of these two pioneering theatres arise key questions about performance space and its influence. These were exciting times and the productions they spawned were often innovative, challenging and occasionally offensive, driven by extraordinary personalities with the flair and vision to reinvigorate old theatrical forms.

This is an important history of a key period in British theatre and is illustrated throughout with rare photographs of productions and of the theatres themselves.

About the Author/s:
ISBN: 978-1-902806-43-3 Format: Paperback, 256pp Published: Aug 2005
Any questions
Contact us at UH Press if you have any queries or would like to find out more about this book.