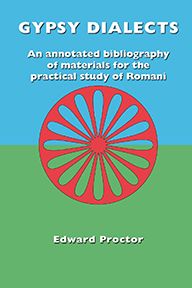 About the book
This is a scholarly bibliography aimed at helping people who wish to learn to speak Romani, the language of Gypsy and Roma peoples throughout the world, and which is made up of a large number of dialects.
It is intended to be accessible (and is not weighed down by linguistic technicalities), so that the author's highly informed comments on the entries will enable readers to decide for themselves which materials would best suit their purposes.
More about the book

Although the study of Gypsy dialects has been a recognised area of linguistics for well over 200 years, surprisingly little has been published dealing with practical aspects of learning the language as it is actually spoken.

There are many excellent studies of the language, but not nearly as much material that actually teaches one how to speak and understand any contemporary Romani dialect.

A huge proportion of this material has now been listed here and arranged in an easily understood way. Both printed and online resources are detailed as well as audio recordings.

Read a sample chapter

About the Author/s:
ISBN: 978-1-902806-48-8 Format: Hardback, 128pp Published: Jan 2008
Any questions
Contact us at UH Press if you have any queries or would like to find out more about this book.