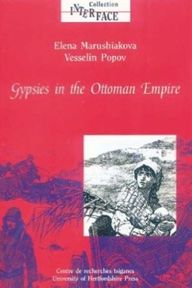 About the book
The Roma presence in the European part of the Ottoman Empire — the Balkans — is centuries old and it is not by accident that this region has often been called the second motherland of the Gypsies.
From this region Gypsies moved westwards taking with them inherited Balkan cultural models and traditions.
This is the first book to be published on the history, ethnography, social structure and culture of the Gypsies in the Ottoman Empire. It is based on archival sources, mainly detailed tax registers, special laws, guild registers and court documents.
References to Gypsies in books by foreign travellers are also included.
ISBN: 978-1-902806-02-0 Format: Paperback, 105pp Published: May 2001
Any questions
Contact us at UH Press if you have any queries or would like to find out more about this book.