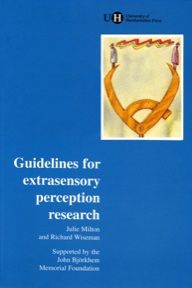 Guidelines for Extrasensory Perception Research
Author: Julie Milton, Richard Wiseman
Price: £12.99
"
"Should be compulsory reading for anyone planning or evaluating ESP research ... Guidelines shows us the heights to which we must aspire, the ideal 'wish list' for a methodologically superb experiment."
European Journal of Parapsychology
About the book
Laboratory tests of extrasensory perception attract international interest within the scientific community.
Until now, recommendations and commentary on safeguards have been scattered throughout an extensive literature.
This book brings together this material, discussing the issues and providing clear guidelines in a convenient checklist format to help researchers carry out and recognise high-quality research in this important area of science.
ISBN: 978-0-900458-74-3 Format: Paperback, 94pp Published: Apr 1997
Any questions
Contact us at UH Press if you have any queries or would like to find out more about this book.