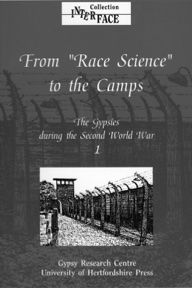 From Race Science to the Camps
Author: Herbert Heuss, Frank Sparing , Karola Fings , Henriette Asséo
Price: £12.75 (free postage)
"
"This book is much more than a simple accumulation of the facts about the fate of the Gypsies during the Second World War. The contributions are based on information which only recently became available with the opening of the Second World War archives. They explain the fundamental principles on which the persecution of the Gypsies by the Nazis was based."
Hommes & Migrations
About the book
This first volume of a seminal three-part work focuses on Nazi anti-Gypsy policies and their background, principles and effects: internment, deportation and extermination.
It describes how German policies of Gypsy persecution from 1875 onwards led to the establishment of the chillingly named Race Hygiene Research Centre in 1936 which delivered the justification for the proposed destruction of the Gypsies.
The origins of internment camps as a means of clearing the cities of Gypsies and the eventual development of the death camps at Buchenwald, Ravensbruck and Auschwitz are also explained.
ISBN: 978-0-900458-78-1 Format: Paperback, 136pp Published: Sep 1997
Any questions
Contact us at UH Press if you have any queries or would like to find out more about this book.