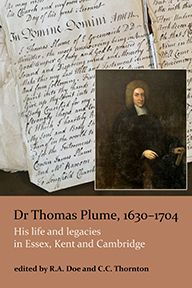 Dr Thomas Plume, 1630–1704
His life and legacies in Essex, Kent and Cambridge
Editor: Christopher Thornton, Tony Doe
Price: £18.99/$37.95
Coming soon
About the book
Dr Thomas Plume, born in Maldon in Essex in 1630, is remembered today for the many bequests he left which established important scientific, religious and cultural charities. Still operational today are the Plumian Professorship of Astronomy at Cambridge University (held by many notable scientists including Fred Hoyle and Martin Rees), the Plume Library at Maldon and the Plume Trust for poor clergy in the Diocese of Rochester.
This volume provides the first comprehensive account of the life, work and philanthropy of Plume. Educated at Chelmsford Grammar School and Christ's College, Cambridge, Plume was vicar of Greenwich from 1658 and archdeacon of Rochester from 1679, forging strong links with Kent and holding both posts until his death in 1704. He died a wealthy man and his will contained 79 bequests.
More about the book

Plume's famous library at Maldon still houses some 8000 books and pamphlets as well as his pictures and manuscripts. Together these form an important resource for understanding the Enlightenment whilst revealing Plume's intellectual roots in the religious, philosophical and political debates of the mid-seventeenth century.

Having lived during a significant period of religious tumult and intellectual debate, Plume's legacy is both to have influenced the accretion of knowledge for over three hundred years and also to have illuminated his own times.

About the Editor/s:

---
ISBN: 978-1-912260-16-4 Format: Paperback, Published: Dec 2020
Any questions
Contact us at UH Press if you have any queries or would like to find out more about this book.