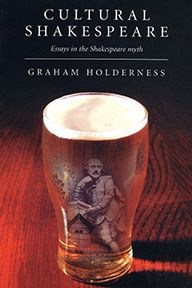 Cultural Shakespeare
Essays in the Shakespeare myth
Author: Graham Holderness
Price: £14.99
"
"Graham Holderness has done the most illuminating, inclusive and informed work on the ways 'Shakespeare' circulates in our culture. This collection offers an excellent opportunity to catch up with the main debates"
About the book
"Graham Holderness's refusal to separate the Bard from the culture in which we all take part makes him an admirably perceptive, and sadly rare, critic." Dr Terence Hawkes, University of Wales, Cardiff
This first volume of Graham Holderness's important trilogy includes essays in literature, theatre, film/media and cultural studies, and is an indispensable resource for studies in the 'Shakespeare industry'.
This book brings together the author's writings on Shakespeare and national culture and the 'Shakespeare myth'. The essays constitute a unique resource for the study of 'Shakespeare' as a cultural phenomenon or ideological apparatus, as distinct from Shakespeare the poet and playwright.
The volume also includes an extensive bibliography of work in this particular field.
ISBN: 978-1-902806-11-2 Format: Paperback, 224pp Published: Jun 2001
Any questions
Contact us at UH Press if you have any queries or would like to find out more about this book.