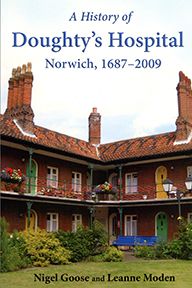 A History of Doughty's Hospital, Norwich, 1687-2009
Author: Nigel Goose, Leanne Moden
Price: £9.99 £7 (free p&p)
"
"In this elegantly written and thoroughly researched study, Nigel Goose combines a humane portrait of one of Norwich's oldest charitable institutions with a sharply focused account of the changing context of local welfare provision. It will appeal not only to local historians, but also to those interested in the changing relationship between the voluntary and public sectors in social policy."
About the book
"Professor Nigel Goose is a leading local and regional historian and an authority on almshouses. This very readable book is concerned with the history of a Norwich hospital, but it also provides an understanding of welfare provision over more than three centuries in the country at large. It is an excellent example of how a detailed local study can illustrate national developments." David Hey, Emeritus Professor of Local and Family History, University of Sheffield
"This is a most novel and highly effective institutional history. The authors have woven into an exceptionally detailed history of Doughty's Hospital a history of Norwich's economy and society and of public and voluntary charitable welfare provision in England as a whole. A delight for both the general and the local historical reader... an entirely original approach to the history of a remarkably durable and constantly adaptable institution." Richard Smith, Professor in Historical Geography and Demography, University of Cambridge
Doughty's Hospital, an almshouse in Norwich, was founded by a bequest in the will of William Doughty in 1687 and continues to thrive to this day. In this detailed history, the Hospital itself is contextualised within the broader history of the city of Norwich and its various philanthropic initiatives, as well as within the wider history of philanthropy and social policy.
The growth and development of Doughty's almshouse is traced through local documentary evidence as well as through census returns and the reports of the poor law commissioners, whilst the authors have also used oral-history interviews with current residents and recent and current staff and trustees.
More about the book

Having set out the long-term historical foundations of social welfare, the book focuses on the Hospital and considers key aspects of its history, including its residents, staffing, financial management and the rise of state regulation.

The authors undertake a broad survey of philanthropy across more than three centuries, giving insights into changes in social welfare up to the present day. With chapters on the eighteenth, nineteenth and twentieth centuries, as well as a detailed look at this notable almshouse as it has evolved today, this book makes a valuable contribution to the history of social welfare.

Read a sample chapter

About the Author/s:

---
ISBN: 978-1-905313-93-8 Format: Paperback, 288pp Published: Sep 2010
Any questions
Contact us at UH Press if you have any queries or would like to find out more about this book.